Bank of Spain slam IVA hike suggestions, praise labour reforms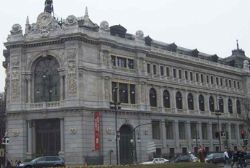 Spain's central bnak has commented how an increase in the rate of IVA would only be a 'short-term fix' for the finances of the country, and that longer term problems would persist.
A recently published report offered the opinion that the best strategy would be to improve Spain's foreign markets to encourage demand, and to make the cost of exporting goods more competetive.
The Bank also said how it ought to be the responsibility of the European Central Bank to ease financial tension by making the availability of financial support easier.
The report went on to praise the Labour Reforms from earlier this year, but emphasised the importance of promoting training, career guidance and the creation and availability of employment schemes for the young and unemployed.
Although the reform was largely unpopular with workers here in Spain, the Bank notes that the reduction of redundancy pay bring things in line with the rest of Europe, and that removing the limitations imposed by job contracts and collective working agreements would allow businesses to manage their workforce better.