Valencia Pharmacy Strike Today Sees 97pct Closure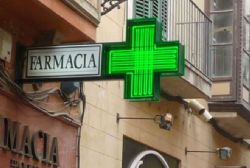 A strike of Pharmacists throughout the region of Valencia today is expected to see almost 98% of outlets closed for business.
The action is in protest over unpaid debts of more than 480 Million Euros being owed to them by the Generalitat Valenciana.
These debts are impacting upon the cashflows and business operations of pharmacies in the region, who are finding it difficult to finance the replenishment of stocks. As such this is affecting most consumers - the majority of whom are unwell and in in no condition to visit a number of outlets to complete their prescription requirements.
The last time the Pharmacists took strike action in January of this year it led to the regional government paying 120 Million Euros from their debt, however nothing has been since that time.
The significance of today's date is that it officially marks the date where Pharmacies could expect payment for the month of February, however, it has been unofficially declared that this would not be forthcoming due to the lack of funds at the Generalitat.
The Provinces of Valencia and Castellon have reported that just 3% of all Pharmacies are open for business today, whilst just 1% in Alicante are not taking part in the strike action.