Spain to take more deficit reduction steps soon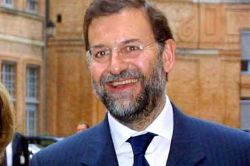 Spanish Prime Minister Mariano Rajoy said on Saturday that he will take additional steps to reduce the public deficit in the coming days and renewed his call on Europe to quickly implement a rescue plan for Spanish banks.
Speaking at a conference in a town in the mountains outside of Madrid, Rajoy also said that Spain's 17 autonomous regions must deepen their efforts to cut spending.
Rajoy is expected to announce on Wednesday in Parliament budget measures including a likely hike in the value-added tax, and cuts to benefits for public workers.