Spain property prices continue to fall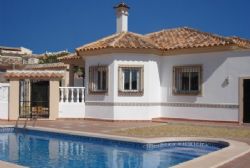 The average price per square meter of Spanish residential property stood at €1606.40 at the end of June, with a quarterly fall of 2.6% and 8.3% year on year.
According to the report issued by the Ministry of Development, the average price per square meter has fallen 23.6% since its peak in Q1 of 2008. where prices were slightly above the €2'000 mark.
Meanwhile, the average price per square meter of properties for sale up to 2 years old stood at €1,645.0, with a variation in decline of 7.1%.
The cost of resale properties over 2 years old reached an average of €1593.3 per square meter, down 8.4% year on year.
The average price per square meter of all properties in Spain was €1157.10, almost the same as in Q1 of 2012. The variation over the same quarter of 2011 shows a fall of 0.4%.
The average cost of Spanish Property throughout the whole of the country during Q2 of 2012 came to €85,911, representing a deccrease of 2.0% compared to Q1 of 2012.
The report - which depicted an average national decrease of -8.3% - went on to show the results by region : Andalusia and Catalonia both saw decreases of 10.8%; Madrid -9.7%; Aragon -8.9%; and Valencia -8.4%.
Regions which fell below the average are Cantabria (-0.6%), Ceuta and Melilla (-2.0%), Basque (-2.4%), Murcia (-5.4%), La Rioja (-5.6%), Navarra (-5.8%), Asturias (-6.0%), Castilla y Leσn (-6.2%), Extremadura (-6.7%), Canary (- 6.8%), Galicia (-7.1%), Baleares (-7.1%) and Castilla La Mancha (-7.3%).
The highest property prices in municipalities with more than 25,000 residents were in San Sebastian, €3856.7 /m2, Getxo €3282.0 /m2, Leioa, €2935.0 /m2, Majadahonda, €2923.6 / m2, Renteria, €2780.3 /m2 and El Prat de Llobregat with €2755.5 /m2.
The lowest property prices for municpalities with more than 25,000 inhabitants were Elda €736.8 /m2, Tomelloso €740.4 / m2, Crevillent €740.6 /m2, Hellin, €744.8 per m2 and Villarrobledo, €746.8 per m2.