Spanish Eurovision Host Uribarri Dies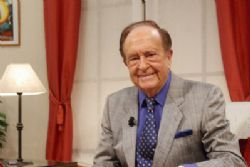 Journalist, music commentator and Spanish Eurovision host José Luis Uribarri has died this morning in hospital.
José Luis is a household name and much loved by the Spanish public. Born in Avila, August 9, 1936 and growing up in Madrid where his family moved to in 1938, José Luis built a successful career spanning several decades as presenter, writer and producer but will be remembered most for his humour and wit whilst presenting the Eurovision song contest on Spanish television. Parallels can be drawn between him and Terry Wogan whilst presenting the annual music contest.
Messages of sympathy have flooded in from across the globe, especially those involved with the media industry.
José Luis, 75, was admitted to Montepríncipe HM University of Madrid hospital on Wednesday last after suffering a "massive unexpected brain haemorrhage" according to a statement released by the hospital. Since then, he had been fighting for his life but in a statement issued by his family today, "his heart just could not take anymore".
José Luis Uribarri was surrounded by his family at the time of his passing.
Tumbit would like to take this opportunity to send our deepest sympathies to the family and friends of José Luis Uribarri.