Rajoy calls on ECB to clarify plans before deciding on bailout options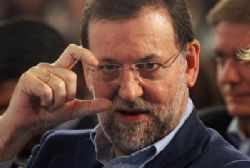 Mariano Rajoy on Friday did not rule out seeking further assistance from Europe's rescue funds but insisted he needed more details of the European Central Bank's pledge to intervene in the open market and other non-conventional measures to relieve pressure on the sovereign debt of distressed European nations before deciding on his next move.
After promising last week to save the euro at all costs, ECB President Mario Draghi on Thursday disappointed the markets by conditioning the renewal of the bank's government bond purchasing program to euro-zone members first formally requesting assistance from the European Financial Stability Facility (EFSF) and permanent European Stability Mechanism (ESM). That would entail accepting further conditions on top of those already acquired for its bailout of up to 100 billion euros to recapitalize Spain's banks.
The government has embarked on a painful austerity drive that has led to Rajoy breaking a number of his electoral campaign pledges. According to plans sent to Brussels and revealed on Friday, the administration plans spending cuts and tax hikes of €102 billion over the next two-and-a-half years to rein in its budget deficit.
Draghi's lack of immediate action caused Spanish stocks and bond prices to plunge on Thursday. Spain's risk premium continued to shoot up on Friday, hitting 617 basis points before it narrowed again. In late trading the spread between the yield on the Spanish benchmark 10-year government bond and the German equivalent stood at 542 basis points, down 51 basis points on Thursday's closing level. The blue-chip Ibex 35 index closed up 6.00% at 6,755.70, recovering the ground lost on Thursday.
Asked at a news conference if he would consider asking the ESM and EFSF to buy Spanish government bonds in the market, Rajoy said: "I will do what I always do; act in the best interest of Spaniards."
"What I want to know is what are these [non-conventional] measures, find out what they mean, know what they are aiming to do, find out if they are suitable, and then in the light of the circumstances, we will take one decision or another; but I haven't taken any decision," the PM added.
In a recorded interview with the US broadcaster CNBC, the secretary general of the ruling Popular Party, María Dolores de Cospedal, ruled out Spain having to seek a full bailout. "I don't think..., or to put it better, I am sure that Spain won't need a bailout," she said. "This year we have a good import-export balance, which is very important, and therefore I think, and I am sure, that the need for a bailout is not seriously considered for Spain either by the EU institutions or by the government."
Rajoy said he detected a shift in the ECB's stance. "The president of the ECB said the differences that exist in Europe [in terms of the borrowing costs] were not acceptable," he said. "That is important because before he had said exactly the opposite. He has announced he is going to intervene."