Castellon Airport sculpture €127,000 over budget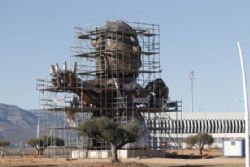 Work has now been finished on the controversial and unpopular statue of Carlos Fabra, situated on the roundabout immediately in front of the terminal building at Castellon Airport.
The 25 mt high, 20 tonne bronze sculpture has now had the scaffolding surrounding the structure removed following the placement of a stainless steel model airplane at it's highest point. Although it has been widely reported that the statue / sculpture is of the president of Aerocas - the company behind the development of the airport - and former President of the Province of Castellon, Carlo Fabra, this has been denied by the artist.
Barely 4 weeks ago headlines in the Spanish press mocked the model being manoeuvred into position, noting the "arrival of the first airplanes at Castellon Airport".
It was also suggested that the cost of the sculpture as overrun the €300,000 budget by some €127,000, although none of this has yet been paid to Juan Rippolles, the artist.