Oil May Be 'Salvation' of Spain's Canary Islands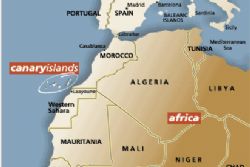 Jose Manuel Soria, Spanish Minister for Industry, Energy and Tourism, said finding oil could be the "salvation" of the Canary Islands economy where unemployment currently stands at 31 percent, Efe reported.
Repsol SA is drilling for oil about 60 kilometers (37 miles) off the coast of the Spanish archipelago amid protests from locals and environmentalists who say the work poses a threat to the islands' beaches.
Finding oil would be an "extraordinary opportunity fundamentally for young workers," Soria told Efe. "There are a lot of engineers in the Canaries."
Earlier this year Soria explained how the recently discoveed oil reserves off the Canary Islands could potentially produce as many as 140'000 barrels of crude oil per day , which could represent a yearly revenue of 28,000 million euros.