Spain says there must be no limit set on ECB bond buying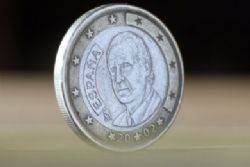 The European Central Bank must make forceful moves to buy sovereign debt to help Spain reduce its refinancing costs and eliminate doubts over the euro zone's future, Spain's economy minister said in comments published on Saturday.
"There can be no limit set or at least (the ECB) can't say how much they will use or for how long," when it buys bonds in the secondary markets, Luis de Guindos told Spanish news agency EFE.
The Spanish government will study the details of the ECB's debt-buying programme, which are likely to be outlined before the Eurogroup meeting mid-September, before making a decision on applying for more European aid, de Guindos said.
Spain is at the centre of the euro zone debt crisis on concerns it may need a full bailout, which could stretch euro funds to breaking point, on top of up to €100 billion it has already requested for its struggling banks.
PM Mariano Rajoy has said his government would study any measures by the ECB and the potential conditions attached to any EU aid before deciding whether to apply for help.
The yield on Spain's benchmark 10-year bond fell to lowest level since early July on Friday after German Chancellor Angela Merkel voiced support for the ECB's crisis-fighting strategy, reinforcing expectations of ECB interventions.