Government mulls new property rental laws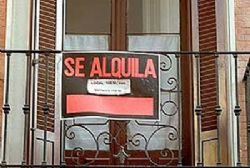 The government is trying to jumpstart the country's almost nonexistent rental market with a new set of measures that grant owners greater legal safeguards against defaults and gives tenants greater flexibility to end their leases.
Yeterday Ana Pastor, the Minsiter of Public Works, together with and Deputy PM Soraya Sáenz de Santamaría presented the draft legislation that the government will take to Congress. The overall goal, Pastor said, is to strike a "balance" between landlords and tenants in a country with a home-ownership rate of around 82%, and a marked aversion for renting out one's property on the belief that the law clearly benefits the tenants - even those who fail to pay the rent.
Among other things, the law will encourage "fast-track evictions" of tenants in default - settling debts at the last minute will no longer save defaulters from eviction. The secretary of state for infrastructure, Rafael Catalá, said the aim is to prevent abuses by "default professionals." Owners will also have an easier time getting their property back if they need it for themselves, with only two months' notice necessary rather than a contract clause.