Spain's Rajoy to seek German backing for a bailout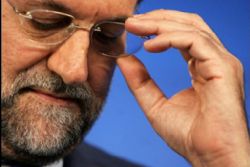 Rajoy's 8 months in power have been tumultuous from the start but September and October may be even tougher, with the Spanish leader assailed on all sides.
Internationally he is caught between diverging pressures from Germany and France, and at home he faces protests over spending cuts sought by the euro zone's big powers.
France wants Rajoy to request an international bailout to prop up Spanish finances and stop the debt crisis deepening.
But he is unwilling to ask for aid until he is sure of support from euro zone paymaster Germany which he will seek on Thursday at a meeting with Chancellor Angela Merkel.
"The worst thing that could happen is Spain asks for aid and Germany blocks it," said a senior European diplomat.
Last week Rajoy met French President Francois Hollande who nudged him to ask for help before October to give European leaders time to consider it before an October 19 summit.
But Rajoy told Hollande he was getting mixed messages from Germany, according to a source who was briefed on the meeting.
Berlin wants more details of the problems in Spanish banks, including the results of an audit by global accounting firms due later this month, and regions, which will get €45 billion from Spain's central government this year, before backing a bailout.
Spain has already been promised up to €100 billion of European money to keep its banks afloat. A sovereign bailout could deplete the region's rescue funds, the EFSF and the new ESM that will be the euro zone's permanent rescue fund.
Rajoy's team feels that Merkel is also wary of news that could jeopardise a September 12 German Constitutional Court ruling on the ESM as she faces some domestic resistance to Germany providing money to prop up countries that run into trouble.
"Germany doesn't want any messages right now that will contaminate the decision of the constitutional tribunal. We can't precipitate things," said a Spanish government source.
As Merkel and Rajoy meet, ECB head Mario Draghi is due to give details of his plan to shore up Spanish and Italian bond prices with a secondary market buying programme. But he has said this will not happen until Spain agrees to conditions in return for EFSF help.
With borrowing costs painfully high, a recession undermining his austerity drive and Spaniards angry over cost cuts, that deal could be attractive to Rajoy even if it means protracted wrangling over the terms.
RATING UNDER SCRUTINY
The pressure on Rajoy is just as unrelenting at home, where he faces increased social unrest over tax hikes and cuts at public schools and hospitals. He must present the 2013 budget before the end of September and this is likely to reveal a gloomy economic outlook as well as more spending cuts.
Moody's credit rating agency is due to review Spain by the end of the month and could downgrade the debt of the world's 12th largest economy to junk status.
That could block Spain from markets before a financial hump in October, when some €27.5 billion of debt comes due.
Rajoy's approval rating has crumbled in his first 6 months of office, with 56% of Spaniards having a bad or very bad opinion of him in a July poll by Sigma Dos.
In every speech Rajoy says: "You can't spend what you don't have", to explain why Spain is suffering for spending borrowed money during a property boom that ended in 2007. But he lacks inspiration to keep the public on his side.
A close ally will run for re-election as regional president of Rajoy's home region of Galicia on October 21 and this will be seen as a referendum on the government's austerity policies.
But analysts say Rajoy's approach of delaying tough decisions and his capacity for riding out turbulence may save him from the fate of the leaders of Ireland, Greece and Portugal, whose political careers ended with their countries' bailouts.
"Everyone sees the rescue as inevitable. That's good for the government, they've dealt it out in steps so it looks like a logical stage," said Jose Ignacio Torreblanca, from the European Council on Foreign Relations think tank.
"Also, the back and forth with the ECB looks good for Rajoy, it looks like the other side is giving a bit as well."
NO EXCEPTIONS
Spain and the euro zone are already in talks over the terms of sovereign aid. But Rajoy told European newspapers this week that Spain is doing so many reforms that it should not have to do any more in exchange for new money.
Rajoy wants any fresh terms tacked onto the existing Spanish-EU agreement for the bank rescue and does not want a new memorandum of understanding, said the source who was briefed on the meeting with Hollande last week.
But his European partners are taking a tough line.
"There will be no exception made for Spain," Michael Meister, vice-chairman of Merkel's conservatives in the Bundestag lower house, told Reuters. "If such a request is made... there will need to be an agreement on the conditionality of the assistance, as in all previous cases."
With German Central Bank President Jens Weidmann opposed Draghi's plan to buy Spanish and Italian bonds, the ECB boss is under pressure to attach strong conditions.
Finnish PM Jyrki Katainen, one of the most hardline euro zone voices on conditions for bail-outs, is next in line to visit Rajoy, on September 11.