Spain to start taxing the Catholic Church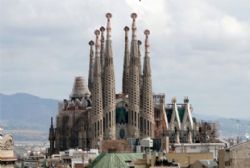 At a time when Spain is seeing unprecedented increases in all manner of taxes, it is hardly surprising that the treasury is examining the possibility of finding new revenue streams to generated some much-needed income for the state.
An agreement between the Spanish Government and the Vatican dating back to 1979 allowed Church property to go untaxed - even though much of it was rented out by the Catholic church for commercial or non-religious purposes.
The Catholic Church remains one of the largest owners of land and property in Spain - owning hundreds of schools, and public buildings in addition to various places of worship but is is their previously untaxed commercial assets that the treasury is sizing up.
It is estimated that the properties in Spain that the Church makes a direct profit from could net the country some 3 Billion Euros per year in taxes.
Although Tumbit applauds the move we have to ask Why now ? - Why only resort to this measure after every conceivable pension or benefit has been slashed to the bone, why when education and healthcare has been cut to dangerous levels, why when property repossessions have fallen to their lowest levels in recent years, and unemployment figures to their highest - why only decide NOW to tax the commercial assets of the richest landowners in Spain ?