Financial Crisis Spurs Second Hand Market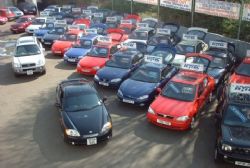 The deepening financial crisis in Spain is spurring massive growth in the second hand market and internet purchases nationwide.
Cash strapped Spaniards who have traditionally bought items brand new using cash or credit are increasingly turning to the second hand market, "Segundo mano" in Spanish, in an effort to save money.
There has always been a cultural resistance to buying second hand or nearly new items in Spain, however this attitude is changing as the crisis continues to bite.
Angel Rodriguez, a car sales executive in Madrid told Reuters how 6 years ago the ratio of new cars sold compared to second hand vehicles was 5:1 but now the trend has reversed and now sell five second hand cars for every new car sold.
Likewise, car boot sales are appearing across the country as sellers eager to raise cash are greeted by hungry buyers keen to snap up a bargain.
Retailers have not missed out either despite falling high street sales. Many are reporting record growth in their internet based retail sales as Spaniards turn to the net to save money.
Online shopping in Spain, compared to most other developed western countries, was never really used to purchase items on a regular basis. However circumstances have changed forcing traditional shoppers into net savvy bargain hunters.
Popular worldwide auction websites have seen their traffic and sales increase substantially also as the crisis, double dip recession, deep austerity and increased taxes continues to strangle family finances across the Iberian Peninsula.