Attorney General defends Spain's right to protest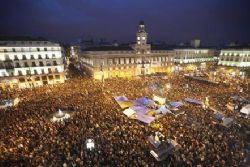 Earlier today Spain's Attorney General Eduardo Torres-Dulce defended the right of citizens to protest, saying how it was protected within the realms of the Spanish Constitution.
"I have spoken of the need to protect the right of the freedom of expression, even for ideas which we hate or which hate us," he said, highlighting that the right to protest is enshrined in the Spanish Constitution.
Torres-Dulce made the remarks 24 hours after Cristiana Cifuentes, the security delegate of the Madrid Regional Authority and a member of the Partido Popular, questioned whether the right to protest should be limited amid the rising wave of protests against the economic policies of Mariano Rajoy's government.
A protest close to the Spanish Congress last week ended up with police making a series of baton charges and over 64 people were injured.
After Cifuentes discussed the need to "rationalize the use of public space," the recently appointed President of the Community of Madrid Ignacio Gonzalez also questioned the right to demonstrate.
"The government delegate (Cifuentes) is correct in saying that we cannot have the city in a permanent state of collapse because we have to respect the right to demonstrate. Other citizens have the right to move around the city," said Gonzalez.
This cominvg Sunday will see another massive demonstration organized by the Social Council in the heart of the capital to protest against the economic and social policies of Rajoy's government.
Over 500,000 people took to the streets in a Social Council march in September to demand a referendum on Rajoy's austerity measures.