Spain places 4.9 bln euros with banks to fund regions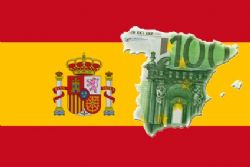 Spain placed €4.9 billion of bonds with banks on Thursday, the Economy Ministry said, to finance a liquidity fund set up to help the country's regions repay their debts.
Spain's 17 self-governed regions overshot deficit targets in 2011 and are expected to miss them again this year. Reining in regional spending is key to getting the country's deficit under control as it faces a full-scale international bailout.
The deal, which clears on Oct. 17, includes bonds maturing in 2015, 2016 and 2017 and follows a successful private placement in September.
Spanish banks have contributed €8 billion to the €18 billion fund through the private placements with the remainder coming from €6 billion of lottery funding and a €4 billion payout from the Treasury.
Top banks Santander, BBVA and Caixabank will contribute the main part of the banks' component of the fund, sources told Reuters in September.