S&P Slash Santander and BBVA Ratings Further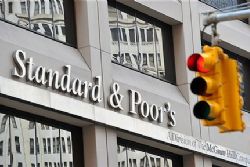 Ratings agency Standard & Poor's has cut the short-term credit ratings for Santander and BBVA and given both a negative outlook.
The ratings cut follows a recent downgrade by the ratings agency of Spain's sovereign debt and placed further pressure on PM Mariano Rajoy to seek an international bailout in order to shore up its finances.
The move is likely to send shockwaves throughout financial markets as investors become even more jittery about their exposure to Spanish debt and investments.
In addition, several other Spanish banks have been placed on negative credit watch and likely to take further downgrades as the Eurozone financial crisis deepens.
"For Santander and BBVA, we don't anticipate that we would lower" the banks' stand-alone credit profiles by more than two levels, if at all, after the review, S&P said. "The possibility that our long-term ratings on these banks would be affected is therefore remote." An S&P spokesperson said.
Concerns over credit worthiness have been growing ever since Spain requested a bailout of its banks earlier this year. Likewise, recent comments and statements from the ESM regarding mutualisation of loans amongst Eurozone members have likely been key factors in S&P's decision to affirm Spain's ratings in August.