Credit ratings of Spain regions slashed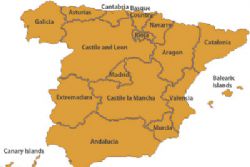 Following on from a number of ratings agencies downgrade of the Spanish Economy earlier this week, Standard and Poor's has taken their review of the country one step further and downgraded the ratings of 5 Autonomous Communities and the cities of Madrid and Barcelona to just one notch above "junk" status.
S&P slashed the ratings of Andalusia, Aragon, the Canary Islands, Galicia and the greater Madrid region each by one or two notches to BBB minus - a whisker away from "speculative" or "junk-bond" status. The rating for the Balearic Islands remained unchanged at BBB.
The Cities of Barcelona and Madrid also saw their ratings cut by two notches to BBB minus.
In the North of Spain the agency lowered the ratings of Pais Vasco and Navarra, as well as the province of Vizcaia, from A to BBB+, all in line with the national rating of the country.