Stubborn Spain recession to undermine budget cuts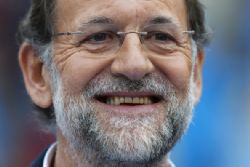 Spain's economy is expected to shrink by 1.4% this year and next as the jobless rate climbs, driving government efforts to cut the public deficit off course, the European Commission said on Wednesday.
The commission's autumn forecasts were roughly in line with those of private economists but much less optimistic than the government's. Madrid expects the economy to contract by 0.5% in 2013.
The Commission said Spain's economy would return to growth of 0.8% in 2014 once the impact of the government's austerity programme eases.
"The main factors behind the expected contraction in economic activity in 2012-13 include further deterioration in the labor market, deleveraging of the private sector, fiscal consolidation, and tight credit conditions," the report said.
A steep recession would also knock the government's deficit goals off course for the years ahead.
The Commission predicted Spain's deficit this year would be 8% of GDP, compared with a EU-agreed target of 6.3%.
The deficit would fall to 6.0% in 2013, and rise to 6.4% in 2014. Spain's government expects to cut the gap to 4.5% next year.
A slide in private consumption was expected to continue over the forecast horizon, with house prices also set to fall further, having already dropped 36% in real terms from their 2007 peak, the report said.
Export growth would provide some cushion in a steep recession.
Pressure on the country had eased recently due to the ECB's plan to buy government debt of struggling euro zone countries should a request be made to do so.
"However, uncertainty remains elevated and financing conditions are subject to considerable strain," the Commission said.