Spain social security will buy new 5-year bond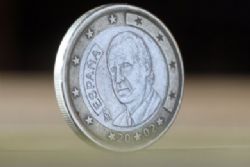 Spain's social security reserve fund will subscribe to a new €3.3 billion sovereign bond as the government seeks pre-funding for a likely tough 2013 while markets remain relatively calm.
The 5-year bond carries a 4.75% coupon and the sale by private placement will close on Monday, the Treasury said in an announcement in the Official Gazette.
Spain's government is taking every step it can to sell debt since borrowing costs have come down in the 2 months since the ECB announced it was standing by to support bond prices if countries like Spain ask for aid.
Spain's high deficit and weak economy - and the problems its banks and 17 autonomous regions have had in financing themselves - are at the centre of the euro zone debt crisis.
Spain's social security system is set to register a deficit of €10.5 billion in 2012 compared to an initial forecast of a balanced budget, according a document sent to the European statistics office.
"As long as the sentiment and environment remain constructive they're just trying to get as much paper out as they can," said Michael Leister, strategist at Commerzbank in London. "Once again it shows that the Treasury is quite opportunistic in exploring these possibilities once they arise."<
Spain has made two other recent private debt placements. In September and October the Treasury placed close to €9 bllion with banks to finance a liquidity fund set up to help the country's regions to meet debt payments.
Jo Tomkins, an analyst at 4Cast consulting firm, said that while the placement could raise some eyebrows from the public, it was not significant for markets.
"If anything the buyer is a longer-remit investor and hence will probably hold the bonds and not sell them off at any given opportunity which cannot be said for banks et al," she said.
As of September Spain's public administrations held 13.5% of the country's outstanding sovereign debt, according to Bank of Spain data.