Santander to study absorbing Banesto bank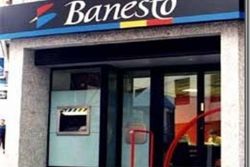 Spanish bank, Banco Santander announced earlier today that it would look into the possibility of absorbing Banesto.
In a statement to the stock exchange regulator, the bank said its board would meet on Monday morning to consider "the merger by absorption" of the smaller bank in which it already owns a 90% controlling stake.
The Banking Industry regulator in Spain has suspended dealings of shares on the Madrid stock exchange of both Banco Santander and Banesto until a further official announcement has been made.
Ana Patricia Botín, daughter of Santander president Emilio Botín, served as executive chair of the bank between 2002 and November 2010, before moving to the position of CEO of Santander UK.