El Gordo 2012 : Spain's last Tax-Free lottery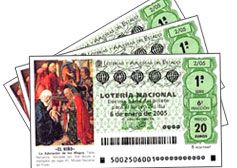 This coming weekend's El Gordo Christmas Lottery Draw will be the final year in which the prize money is not subject to taxation by the treasury.
As from January 2013 any prize fund over £2'500 will be taxed at 20%, making the 2012 El Gordo the last 'Tax Free' lottery, and the 'El Ni ño' lottery of January 5th, the first lottery to see winnings being taxed.
This means that with just a few days to go before the December 22nd draw, tickets are in even more demand than in previous years.
>> Play the Spanish Christmas Lottery NOW - Click for more info <<