El Gordo 2012 - Check your number here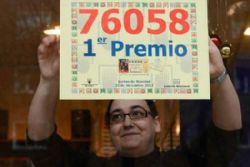 Spain's 2012 'El Gordo de Navidad' 2012 Christmas Lottery was drawn at 10.am this morning, with the jackpot prize number being advised as 76'058.
The winning ticket was sold in the Alcala de Henares area, with 130 series of the number being released, making the number worth 520 Million Euro in total. Each lucky owner of a 'Decimo' - or 1/10th of a ticket - will take home 400'000 Euros.
Further series of the same winning number were also sol in Andorra and Barcelona.
This year also marked the last year in which all lottery winnings above 2'500 Euros will be untaxed, with a 20% tax being applied - starting with the 'El Niño' lottery draw of January 5th.
Are you one of the lucky winners ? - Click the link >> HERE << and select "Results" to enter your ticket number.