Catalan President calls upon Rajoy to allow referendum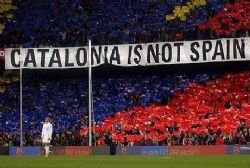 The president of Catalonia, Artur Mas, called upon the Spanish government to avoid a confrontation with the region and permit the holding of a referendum on Independence in 2014.
Mas took office as president of the Generalitat Catalunya earlier today, giving a speech in the regional Parliament where he asked PM Mariano Rajoy not to deny the right of the citizens of the region to decide its future.
Mas was confirmed as retaining the Catalan Premiership for a second term last week.
Today's speech saw him call upon the Spanish government not to deny the will of the people, before going on the stress that Catalonia has been considered a nation in it's own right for many centuries.
Having 7.5 million residents, Catalonia, one of the richest of Spain's Autonomous Communities, contributes 18% of Spain's GDP.
In September the region's Ministry of Finance reported how Catalonia contributes more to central government coffers in taxes than they recieve back in funding.