Spain Pension reform takes effect from today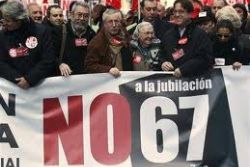 Spain's pension reform, which raises the age of retirement from 65 to 67 between now and 2027 takes effect today. The increase will be made incrementally, at the rate of 1 month per year for the first 6 years, and then at 2 months per year for the remaining 9 years.
This reform was written into law in the summer of 2011, which set the date when the increases would start as 1st January 2013.
The maximum number of years of contributions in order to qualify has also increased from 35 to 37 years.
The reform also maintains 15 years as being the minimum period of contributions in order to qualify for a 50% reduced pension, whist 22 years of contributions will be required in order to qualify for 100%.
There are a small number of exceptions to the Pensions reform - for example a worker who has made 38.5 years of contributions may retire before the age of 67 on a full pension, however this too will be phased in / out incrementally.