"Youth unemployment hurts me" : Juan Carlos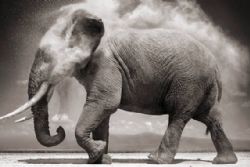 Spain's King Juan Carlos I said he was worried about high youth unemployment and urged Spaniards to stick together to combat an economic crisis, in an interview to mark his 75th birthday after a year of scandal for the royal family.
The king was widely respected for overseeing Spain's transition to democracy in the 1970s but last year his popularity slumped after he was forced to apologise for going on an elephant hunting trip to Botswana as his country was mired in financial crisis.
The interview, broadcast on national television late on Friday, did not mention the trip or his son-in-law, who is under investigation for embezzlement.
The king spoke of his pain at Spain's unemployment rate, which stands at 25%.
"The lack of work, which means millions of families cannot live with dignity and that young people have to leave Spain to find whatever they can working abroad, that hurts us a lot, and it hurts me especially," Juan Carlos said.
More than half of young people in Spain are unemployed, owing to a sharp economic slowdown after the country's decade-long real estate boom turned to bust 5 years ago.
The royal family took a pay cut after Spain's centre-right government introduced a new round of harsh austerity measures last summer.
But the king's elephant hunting trip in April sat badly with Spaniards suffering the effects of the crisis. It was made public after he was flown home for medical treatment.
A poll published in El Mundo newspaper this week showed only 50% of people considered his reign to have been "very good" or "good", 26 percentage points lower than a year before.
Catalonian leader Artur Mas is leading a separatist movement in the coastal region and has called for a referendum on independence.
The king said in the interview he was concerned about "breakaway policies".
"At this point in time that's not what is good for Spain," he said. "Spain needs unity, for us to all to move towards the future together."
Spanish media reported that a village in Catalonia had decided to remove the king's name from a street last week.
Juan Carlos, who turned 75 on Saturday, has reigned for 37 years since the death of dictator Francisco Franco. He won respect from many Spaniards in 1981 when he publicly condemned an attempted coup.