Spain's youth unemployment hits 60%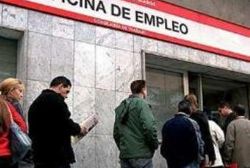 Unemployment levels in Spain jumped to its highest level since records began in the 1970s as a prolonged recession and deep spending cuts left almost 6 million people out of work at the end of last year.
Levels rose to 26% during Q4 of 2012, or 5.97 million people, the National Statistics Institute (INE) said on Thursday, up from 25% in the previous quarter and more than double the EU average.
Spain sank into its 2nd recession since 2009 at the end of 2011 after a burst housing bubble left millions of low-skilled laborers out of work and sliding private and business sentiment gutted consumer spending and imports.
Efforts by PM Mariano Rajoy's government to control one of the euro zone's largest deficits through billions of euros of spending cuts and tax hikes have fueled general malaise, further hampering demand. When Rajoy took office in late 2011 there were 5.27 million jobless in Spain.
The economic downturn put an average of 1,900 out of work every day through 2012 and with the recession expected to last at least until the end of 2013, net job creation is unlikely this year.
Unemployment has been particularly acute for Spain's youth, with 60% of people under the age of 25 unemployed by the end of last year.
In Q4, the economy shrank at its fastest pace since the recession began, the Bank of Spain reported yesterday, dragged down by a steep drop in private consumption due in part to an increase in the rate of IVA in September, and public wage cuts.