Rajoy to speak on corruption allegations today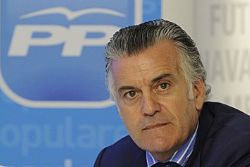 Spanish Prime Minister Mariano Rajoy will speak publicly later this afternoon regarding media reports alleging that he and other leaders of the ruling People's Party received payments out of a slush fund fed by private donations.
Allegations of "irregular payments" have beeb made in the press over previous weeks since a secret Swiss Bank account containing 22 Million Euros was uncovered in the name of former Partido Popular Treasurer, Luis Barcenas.
Deputy Prime Minister Soraya Saenz de Santamaria said Rajoy's conduct had always been exemplary.
She was speaking at a weekly government news conference.