Urdangarin appeals €8.1 million bond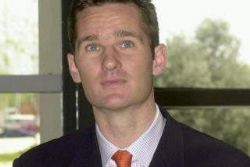 The king's son-in-law, Iñaki Urdangarin, and his ex-business partner Diego Torres on Tuesday appealed a joint bond of €8.1 million imposed on them by a judge for their implication in the Nóos Institute case, according to judicial sources.
The appeal came just a day before the date set for them to post the bond or face the embargo of their assets. The judge investigating the case, which involves the diversion of public funds for organizing events paid to the supposedly non-profit Nóos Institute, left it up to Urdangarin and Torres to decide between themselves how much of the €8.1-million total each would contribute to the bond.
However, sources said an agreement between the two seems unlikely. Urdangarin's lawyer, Mario Pascual Vives, said Monday that the situation "looks bad." Urdangarin's assets include a luxury home in the exclusive Pedralbes area of Barcelona he acquired with Princess Cristina in 2004 for €5.8 million.
Urdangarin's lawyer has said that his client plans to challenge the legality of the proceedings led by investigating judge José Castro, taking the case to the Constitutional Court on the grounds that the Duke of Palma has not been able to defend himself properly. Urdangarin has yet to be formally charged with any offense.