Bankia shows recovery signs after record loss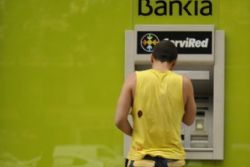 Rescued Spanish lender Bankia reported tentative signs of recovery, even as huge writedowns on bad property assets led it to post the country's biggest ever corporate loss of €19.2 billion.
Bankia, at the heart of Spain's banking crisis since it requested a state bailout in mid-2012, said on Thursday it would return to profit this year, after deposits rose at the end of 2012 and it began cutting costs.
But the bank faces a big challenge in a country gripped by recession and battling to reduce its government deficit, with even healthier peers fighting rising bad debts.
"The clean-up has been very significant but Bankia's main business, like much of the banking sector, is in Spain and the outlook is complicated," BPI analyst Javier Barrio said.
Bankia's relatively upbeat stance came as Spanish telecoms group Telefonica also showed signs of a domestic turnaround after a painful restructuring and thousands of layoffs.
Undermined by a property market crash, Spain's banks drove the country to seek just over €40 billion from its European partners last year to help clean up its financial sector.
Bankia was rescued less than a year after listing on the stock market, leaving tens of thousands of ordinary Spaniards who had invested out of pocket and furious.
The bank took nearly €24 billion of provisions on soured property loans and assets last year in a bid to wipe the slate clean. It has dumped those assets into a government-backed "bad bank" set up as part of Spain's deal with Europe.
"It will be a complex year, a year of challenges," Chief Executive Jose Ignacio Goirigolzarri told a news conference.
Bankia shares were down 3.7 % €0.29 at 1500 GMT, 92% below the €3.75 at which the bank's listing was priced.
A STABLE BASE
Goirigolzarri said Bankia was now stable, cutting costs "at great speed" and aiming to give the government credible options to recover its money by the end of 2014 or 2015.
The bank - in the midst of a fresh marketing campaign under the slogan "Let's start at the beginning" - is targeting a return on equity of over 10% for then and aims to post an €800 million profit for 2013.
Non-performing loans (NPL) dipped to 13% of its loan portfolio in December, from 13.3% 3 months before.
But Bankia's NPL ratio is still much higher than the average in Spain of 10.4% and does not include the troubled property deals now in the bad bank.
Bankia said the high ratio, which could grow slightly in 2013, was down to a very prudent analysis of its loan portfolio, 90% of which was lending to individuals and small and medium-sized enterprises at the end of 2012.
Executives also warned low interest rates would weigh on Bankia's income.
Bankia will be around 70% government-owned once it completes a capital hike from European funds, while 350,000 small shareholders, many of whom participated in its 2011 listing, will end up with a 1% stake or less.
The bank has yet to convert preference shares and subordinated debt into capital, as it imposes losses on holders of those securities as part of its rescue.
That process is likely to keep the lender in the public eye as small investors campaign to get their money back, sparking demonstrations across Spain, while some angry clients try to take their cases to an arbitration panel for mis-selling cases.
"They've managed to scare off clients and kill the golden goose," said Antonio Barahona, 75, who invested his life savings in €68,000 of Bankia preference shares. A 40-year client of the bank and its former incarnations, he now does no business with Bankia and is trying to take it to court.
Bankia and its parent group BFA, which holds the firm's stakes in various Spanish companies, requested €18 billion in EU aid last year. Bankia must now shrink its balance sheet by about 60% as a condition of the rescue. It is also cutting about 4,500 jobs and closing offices.
The Bankia-BFA group posted a yearly loss of €21.2 billion, saying this would drop to €19.4 billion if gains from a pending exchange of hybrid securities were taken into account.