Spain jobless hits record five million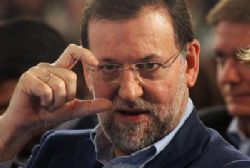 Spain's National Institute of Statistics (INE) has revealed how the country's rate of unemployment has surpassed 5 Million for the first time ever.
The number of officially registered jobless increased by 1.2% from January to February - with a further 59,444 people finding themselves without work.
The INE's quarterly jobless survey, which reports on the number of registered and non-registered unemployed, showed in January that there were almost 6 million people 'unofficially' without work in Spain by the end of 2012 - amounting to 26% of the workforce.
However, the number of people `claiming unemployment benefit´ should not be confused with the actual number of those who are actually unemployed, given the relatively high number of Autonomo (self-employed) people in Spain who have found themselves without an income, the high number of those working `in the black´ and others who may may ineligible to claim state benefits.
Spain's unemployment rate rose to 26% in Q4, or 5.97 million people up from 25% in the previous quarter and more than double the EU average.