Bank of Spain starts proceedings over Santander CEO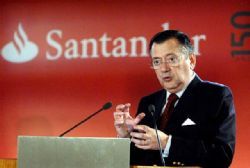 The Bank of Spain said on Monday that it has formally started proceedings to decide whether the chief executive of Banco Santander, Alfredo Saenz, will be barred from banking.
Spain's Supreme Court last month partially annulled a 2011 pardon of a conviction held by Saenz, reviving a long-running case and creating a headache for the central bank, which now has to decide his fate as CEO of the euro zone's biggest bank.
Although Spanish rules on banking ethics would in most cases bar a person with a criminal record, the Bank of Spain said that it could not prejudge the outcome of the proceedings.
A spokeswoman for Santander said the bank and Saenz will now state their case before the central bank. She declined to make any additional comment.
Saenz was convicted in 2009 for false accusations against debtors when he headed Santander-owned bank Banesto in 1994. He was handed a brief jail sentence and barred from banking for 3 months.
A source at the bank with knowledge of his legal team's thinking last week said that Saenz was planning to appeal against the court ruling that reinstated his criminal record. Such an appeal could extend the case for several more months.
The long-running saga has not had a significant impact on Santander's share price, but it has been watched keenly in Spain, where banks and politics are closely linked.