Spain mulls merger of Catalunya Banc and Bankia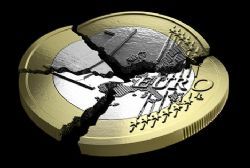 Spain is mulling a full or partial merger of nationalised lenders Bankia and Catalunya Banc to minimise the cost for taxpayers of maintaining the 2 banks, 3 sources with knowledge of the matter said.
The sources insisted no decision had been taken yet and the plans for the failed Catalonian lender were still at an early stage after its sale was halted on Monday for the second time in less than a year because offers fell short of expectations.
But the mere existence of the plan is a sign that the government is running out of options for some of its nationalised banks as the country's sound lenders refuse to take over the entities without new public aid.
Spain's financial sector is going through a massive restructuring five years after a property bubble crashed, leaving lenders deep in bad loans. Spain's government has nationalised 7 banks and borrowed €41.5 billion from Europe to rebuild weak lenders.
If the Bankia-Catalunya Banc integration went ahead it could be a blow for Bankia, which planned to report profit this year after posting a record loss of €19 billion in 2012, because Catalunya Bank is not expected to return to profit before 2015.
The government is looking at three different options, the sources said: a full merger with Bankia, a partial merger under which the banks would keep operating as separate entities but would depend on a single parent company or a standalone restructuring of Catalunya Banc to later sell it.
"The 3 options are on the table. The only thing we're not considering is winding down the bank," a Spanish government source told Reuters on condition of anonymity.
The Economy Ministry and the bank restructuring fund FROB, which controls Catalunya Banc and Bankia, declined to comment.
Bankia received €18 billion of EU funds and Catalunya Banc got a cash injection of €14 under the bailout.
Before Spain's economic and financial crisis began, five years ago, the country had more than 40 banks. It now has fewer than 20 domestic banks and more consolidation is expected.
THREE OPTIONS
According to the sources, one option would be to integrate Catalunya Banc into Bankia's parent company BFA. Both banks would fall under a single management but would retain their commercial brands and operational independence.
The 2nd option would be a full merger of Catalunya Banc and Bankia into one entity and as one brand, which would force the combined entity to negotiate a new restructuring plan with the EU.
A third option would be for Catalunya Banc to stay on its own, apply its restructuring plan to shrink its business and become fit for a new sale by the end of 2016.
A merger of Bankia with a Catalonian lender is not a new idea - the government has previously envisaged combining the bank with CaixaBank and with Catalunya Banc.
But the move, if it happened now, would bear important consequences for Bankia, which had hoped to seal the details of its recapitalisation this month and focus on rebuilding its business and paying back the public aid it received.
Under its restructuring plan approved by the European Commission, Catalunya Banc is expected to report losses in 2013 and 2014 despite €9 billion of EU funds and transferring €6.7 billion of toxic real estate assets to Spain's so-called bad bank. Its plan foresees a sale by the end of 2016.
"If there is an integration under a single holding, we would try to turn the bank around, although it would obviously have an impact on the earnings of (Bankia's parent company) BFA," said a second source with direct knowledge of the matter.
STRATEGIC PLAN
An analyst who asked to remain anonymous said a merger would be hard to withstand for Bankia.
"For Bankia it would be a hard dish to digest, even if the entity is supposedly clean. In addition, it would re-open negotiations with Brussels over a new restructuring plan."
Bankia Chief Executive Jose Ignacio Goirigolzarri on Tuesday denied he was in talks over a merger with Catalunya Banc, but added that any decision would be taken by people outside the bank and that he had no comment on decisions by third parties.
Spain's economy minister left the door open, saying the government was looking at different options.
"Catalunya Banc is solvent, it has a lot of liquidity and a fantastic brand both in Catalonia and in the rest of Spain. The FROB will study the different available options in order to maximise the value of the entity for the taxpayer," Economy Minister Luis de Guindos told journalists after a meeting of EU Finance ministers in Brussels on Tuesday.
"We hope to have a strategic plan for the lenders controlled by the FROB in the next few weeks that will be public, transparent and will make it possible to pay back a maximum of the loan that we received from our European partners."