Mapfre sees 2013 revenue of €26 billion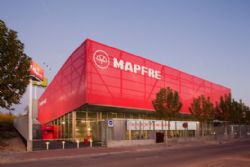 Spanish insurer Mapfre sees €26.0 billion of revenue in 2013 as it grows in Latin America and expands to new areas of the United States, the company said in a statement after a shareholders meeting on Saturday.
The shareholders approved a dividend of €0.11 per share out of 2012 earnings, equivalent to a pay-out of 51% of profit, the highest in the company's history, the statement said.
Shareholders have already received a preliminary €0.04 dividend in December, which will be complemented by a new payment of €0.07 per share.
Mapfre reported net profit of €666 million last year, based on revenue of €25.3 billion.
Chairman Antonio Huertas said in the statement that the company expects growth in its home market in Spain to outpace expansion in the country's insurance sector as a whole.