EU Bailout of Cyprus : A Dangerous Precedent for Spain ?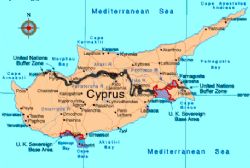 Although it does not affect Spain directly, news of the EU bailout of Cyprus this morning is sure to be of concern to many Spaniards in that it sets a dangerous predcent.
The euro zone struck a deal today to give Cyprus a €10 billion bailout package, in exchange for Banks forcing savers to hand over a percentage of their deposits in order to stave off bankruptcy.
The island becomes the 5th country after Greece, Ireland, Portugal and Spain to turn to the euro zone for financial help during the region's debt crisis.
In a radical departure from previous aid packages euro zone finance ministers forced Cyprus' savers to pay up to 10% of their deposits to raise almost €6 billion.
Around 50% depositors are believed to be non-resident Russians, but most of those queuing to wthdraw cash at ATMs this morning appeared to be Cypriots.
"I wish I was not the minister to do this," Cypriot Finance Minister Michael Sarris said after 10 hours of late-night talks in Brussels where the package was hammered out. "Much more money could have been lost in a bankruptcy of the banking system or indeed of the country," he said, adding that he hoped a levy and bailout would mark a new start for Cyprus.
Without a rescue, Cyprus would default and threaten to unravel investor confidence in the euro zone that has been fostered by the ECB's promise last year to do whatever it takes to shore up the currency bloc.
The bailout was less than initially expected and is mainly needed to recapitalise Cypriot banks that were hit by a sovereign debt restructuring in Greece.
The deposit levy - set at 9.9% on savings accounts over €100,000 and at 6.7% on anything below that - will take force on Tuesday after a bank holiday on Monday.
'THEFT, PURE AND SIMPLE'
Cyprus will also take immediate steps to prevent electronic money transfers over the weekend as a measure to prevent money from leaving the country.
The levy breaks the taboo of hitting bank depositors with losses. But Dutch Finance Minister Jeroen Dijsselbloem said it would otherwise have been impossible to save Cyprus' financial sector which, compared with national economic output, is more than twice as big as the EU average.
"As it is a contribution to the financial stability of Cyprus, it seems just to ask for a contribution of all deposit holders," Dijsselbloem, who chaired the meeting in Brussels, told reporters. "We are not penalising Cyprus..., we are dealing with the problems in Cyprus."
The island's bailout had repeatedly been delayed amid concerns from other EU states that its close business relations with Russia, and a banking system flush with Russian cash, made it a conduit for money-laundering.
Dijsselbloem said that under the rescue, the island's debt would fall to 100% of economic output by 2020.
In return for emergency loans, Cyprus agreed to increase its corporate tax rate by 2.5 percentage points to 12.5%. This should boost revenues, limiting the size of the loan needed from the euro zone and keep down public debt.
Cypriot President Nicos Anastasiades called a meeting of party leaders for Saturday night to brief them on the bailout.
RUSSIAN AID
Cyprus, with a GDP of barely 0.2 % of the bloc's overall output, applied for financial aid last June. But negotiations bogged down in the complexity of the deal and reluctance of the island's previous president to sign.
Moscow, which has close relations with Nicosia, is also likely to help by extending a €2.5 billion loan by 5 years to 2021 and reducing the interest rate.
"My understanding is that the Russian government is ready to make a contribution with an extension of the loan and a reduction of the interest rate," said the EU's top economic official, Olli Rehn.
Cypriot finance minister Sarris will travel to Moscow for meetings on Monday to try to pin down the new loan terms.
Cyprus originally estimated that it needed about €17 billion - almost the size of its entire annual output - to restore its economy to health.
But because a loan of that magnitude would increase its debt to unsustainably high levels and call into question its ability ever to pay it back, policymakers sought to reduce it by finding more revenue sources in Cyprus itself.
The Greek units of Cypriot banks were excluded from the deposit levy, Greek finance minister Yiannis Stournaras said.