Spain plans €15 Bln Regional aid rescue package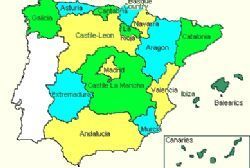 Spain is finalising plans for a new bailout package for its indebted regions to settle €15 billion of unpaid bills to suppliers, Economy Minister Luis de Guindos commented earlier today.
The proposal is to cover bills which remained unpaid following last year's €30 billion programme, which covered bills for services ranging from health care to waste management.
"We're looking into the final figure but the treasury minister has said it would be around €15 billion," de Guindos said at a press conference following a meeting of EU finance ministers in Dublin.
"It was hidden debt," he added, saying the new plan would have an impact on the Spain's debt but not on its deficit.
The European Commission forecasts Spanish debt will reach 95.8% of GDP this year and the €15-billion plan will likely add around 1.5% of GDP in the total liabilities of the countries.
However, the cash injection will alleviate the woes of thousands of small- and medium-size companies which are struggling to finance themselves amid a renewed credit crunch.
The plan will also force the regions to pay new bills within 30 days. Once this delay is passed, the companies will be entitled to claim payments from the central government, which will reduce financial transfers to the regions accordingly.