Corvera Airport : Anniversary of first test flight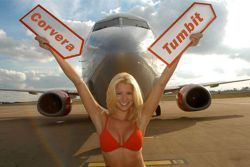 This weekend marks the first anniversary of the arrival of the first test flight to land at Murcia's Corvera Airport.
The tests were a requirement stipulated by the joint Ministries of Defence and Development, and in compliance with the International Civil Aviation Organization and the Directorate General of Civil Aviation.
The flights were overseen by AENA, who monitored the radio, radar and navigation systems for aircraft when taking off and landing at the airport from a number of different heights and headings.
Just weeks after the conclusion of the flights it was revealed how reclassification of the airspace surrounding the airport - together with the compensation negotiations between Aeromur and AENA for the closure of San Javier - remain the only stumbling block preventing the operation of the newer airport.
Yet as of today - 12 months after test flights at the facility began - there is still no news as to when Corvera Airport might open.
Click>> HERE <<to read Tumbit's entire back catalogue of news articles concerning Corvera Airport to date.