Government Proposes Sale of AENA amidst Corvera Takeover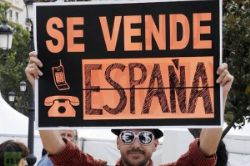 The Spanish Government is mulling over the possibility of floating AENA in an initial public offering amidst the proposed takeover of Corvera Airport Murcia.
State owned AENA has €3 BILLION in equity and controls 46 airports in Spain making it the world's largest operator, however the entity is €12 BILLION in the red and strapped for cash despite being set to assume full control of Corvera Airport from the troubled consortium behind the airport, Aeromur.
It's not the first time AENA has been threatened with privatisation. In 2011, officials pulled the plug on plans to sell a minority stake to a private investor due to poor market conditions.
This time around, it is thought the government plans to float between 40 and 60 percent of AENA and hopes to rake in around €1.5 BILLION.
Despite official passenger numbers claiming otherwise, revenues for AENA have steadily fallen as international tourists flying into Spain have reduced significantly and the government looks for ways to balance the books.
With privatisation being the "buzz word" for successive conservative governments, what this means for Corvera is yet to be seen as it started out as a private entity, which is due to become an AENA state controlled airport and ultimately AENA itself will be privatised.