Spain Arms Argentina against UK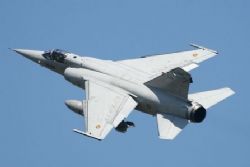 Spain is selling a fleet of 20 Mirage jet fighters to Argentina in a deal worth €10 million raising alarm in Whitehall over the Falkland Islands.
As part of the deal, Spain will also supply parts and provide training to Argentinean pilots and parts for the French built fighter.
The multi-role fighter with a top speed of 1,320mph and a range of 500 miles could easily equip Argentina with the ability to attack the Falklands with laser guided bombs from its southern air force bases.
Currently located at Spain's Albacete air force base, they are due to be shipped to Tandil air base south of Buenos Aires.
The Ministry of Defence said there is adequate air protection in place from two Eurofighter Typhoon fighter jets, however a senior RAF source has said "It will take eight months to get them fully operational and then we may get an indication of their intent and if they decide to fly the aircraft into UK air space.
"If the Argentines start playing games and escalate the tension we will see more RAF aircraft being deployed to the Falklands."
Selective Memory
News of the sale comes amidst rising tensions between Gibraltar and Spain. The British sovereign territory of Gibraltar is being subjected to 'Franco' style intimidation and harassment last seen in the 60's when the late former dictator, Francisco Franco, ruled.
Spain and Argentina recently went head to head when the Argentinean government expropriated YPF from Spanish oil company Repsol leading to complaints being lodged with the EU and the World Trade Organisation.
Fellow EU states backed up Spain, including the UK, in condemning Argentine President Cristina Fernandez de Kirchner and her government's decision to effectively boot Repsol out of Argentina, resulting in trade embargoes into the EU from Argentina.
However, when it comes to issues surrounding the sovereignty of Gibraltar and the Falkland Islands, both nations frequently boost each other's claims and find middle ground.