Anybody who has lived in Spain for even the shortest period of time will know that even seemingly trivial matters can become complicated minefields to navigate your way through once you scratch below the surface.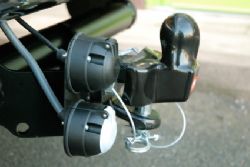 Having a tow bar fitted to your car – or even Importing, or obtaining an ITV certificate for one that already has can be a difficult task.
The main problem here hinges on the required "Homologation Certificate" - which is a document that basically certifies that the vehicle has not been modified in any way (and fitting a tow bar is classed as such a modification - even though it does not affect your Car's roadworthiness!)
If you are importing your vehicle from another country and the fact your vehicle has a Factory fitted tow bar is clearly stated on the Log Book (Fichas Tecnicas) then this should not be a problem, however, if like the majority of people you have fitted the tow bar as a modification some time after the vehicle was manufactured, then it will be.
Some tow bars are removable and as such the easiest option here may be to simply remove it and drive your car without one, however, if it is something that you need to use on a regular basis then you should ensure that this is stated on the Fichas Tecnicas.
There are a few "work-arounds":
• If Your car is Still UK Registered - and assuming that your UK MOT is still in date – you could contact the DVLA and ask if your vehicle log book be updated to reference the fact that your vehicle has a tow bar fitted. This will enable your local ITV station to issue you with a certificate and/or ensure that when you import your vehicle these details can be carried over.
• If you are thinking about getting a tow bar fitted - ensure that you get the tow bar fitted at a qualified and approved garage and make sure that you obtain the paperwork to state that this has been done. Keep a copy of this in the vehicle with your other documents and take them with you to the ITV station and they can update your certificate for you.
• If your car already has a tow bar which is not detailed on the Fichas Tecnicas - This is the tricky one! - You can either remove the tow bar for good (or start over again by fitting a "legit" one) or try and find a "Friendly" ITV Station close by who may advise you on an alternative course of action you could take.
Be aware of this as being a potential issue if and when you come to purchase a used vehicle in Spain (particularly a used car from the UK as this will be most likely NOT to have the appropriate paperwork)
Even when you have finally managed to obtain the necessary documents it does not end there! - This simply proves that your vehicle is roadworthy and that your tow bar has been installed safely – You may require an additional ITV for your Caravan or Trailer depending upon it's size and weight.
Click here to read Can I Register My UK Caravan in Spain ?
Click here to read Towing Trailers in Spain and the Law.