Spain targets "disproportionate" failed bank pay-offs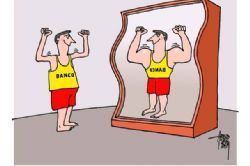 The anti-corruption prosecutor in Barcelona has accused the former chairman of Caixa Catalunya, Narcis Serra, its general manager, Adolf Todó, and 52 members of its management board of awarding themselves huge remunerations and pay-offs before the savings bank was nationalized that were "disproportionate" to the level of the bank's solvency at the time.
The prosecutor Fernando Maldonado argued that agreements taken by the board of Caixa Catalunya and its commercial banking arm Catalunya Banc in 2010 on pension funds, insurance policies and severance packages "during a serious economic crisis" in Spain could constitute a form of criminal mismanagement and asked for those involved to be formally implicated.
The state Orderly Bank Restructuring Fund (FROB) has pumped over €12 billion of taxpayers' money into Catalunya Banc to shore it up after it became unstuck due to its over-exposure to the real estate sector, and is looking to offload the entity. The bank wants to lay off 2,500 workers to reduce its workforce to 4,700.
Todó, for example, as chairman of Catalunya Banc had accumulated pension rights worth €4.5 million before the bank was nationalized, but these were frozen by the Economy Ministry to allow the prosecutor's office in Barcelona to investigate whether payments to management board members were legal.
The high number of members on Caixa Catalunya's board reflected the fact the bank emerged from the merger of three Catalan savings banks: Catalunya, Tarragona and Manresa. Serra was defense minister in the Socialist government of Prime Minister Felipe González and mayor of Barcelona before leaving politics.