Anti-Monarchy Protests in Madrid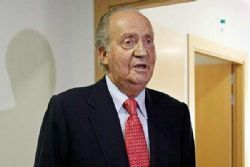 Hundreds of protesters marched in Madrid earlier today, calling for the abdication of King Juan Carlos, the abolition of the monarchy and the establishment of a republic.
A large police presence blocked access to the Royal Palace, where the demonstration was due to end in a rally, with metal barriers and police vans.
Protesters marched under banners reading "Checkmate to the King" and chanting "Tomorrow, Spain will be a republic."
University student Anthea Bauza, 22, said the monarchy needed to be replaced by a democratically-elected head of state.
A heavy downpour caused many protesters to peel off from Saturday's march before it reached a newly convened gathering point near the palace.