Aeromur denounce confiscation of goods at Corvera Airport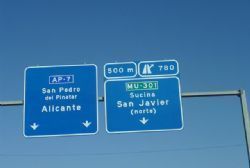 Sacyr, the majority shareholder behind the former concession holder for Murcia's Corvera Airport, has called for legal protection over what they see as the confiscation of goods from the facility.
Aeromur had their contract to operate Corvera Airport terminated by the regional government of Murcia on the 20th September, due to their continued inability to bring the airport into operation.
Last week the Guardia Civil were called to the airport at the request of the Ministry of Public Works to prevent the passage of people and goods in and out of the airport following the decision to terminate Aeromur's contract. Sacyr in turn are calling the move 'confiscation', as no legal settlement or transfer agreement has been made at this time.
This has prompted Sacyr to issue a request of Murcia's Superior Court of Justice to protest their "helplessness" in the situation, and to establish the correct procedures for both parties to follow from here on, considering the termination of the contract.
The regional government has until the 31st of December to successfully appoint a new partner to bring the Airport into operation by Summer 2014.