Fresh Allegations of Corruption Implicate Dolores de Cospedal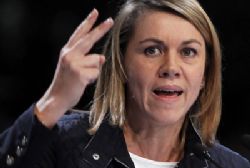 Fresh allegations of corruption involving the Spain's ruling Partido Popular party have come to light reigniting a scandal which has blighted Spanish politics of late.
Luis Bárcenas, the former PP party Treasurer at the centre of the scandal, operated an illegal secret slush-fund where he alleges envelopes of cash were given to ranking party officials.
Speaking from prison via video link, Bárcenas gave evidence in court in which he specifically implicated María Dolores de Cospedal García, PP Secretary General and close aid to PM Mariano Rajoy.
"It was my hand that gave the envelope to Ms de Cospedal" he said According to his testimony, Bárcenas said he gave senior PP official Dolores de Cospedal two envelops each containing €7,500 which were to supplement her salary, adding that payments of this kind were a tradition within the party.
The court case is a civil case brought by Dolores de Cospedal against Bárcenas which is separate to the judicial inquiry into the slush fund and allegations of corruption.
"I have not received the sums mentioned in the papers, nor any other sums mentioned by the defendant, who has made false statements that can be proved to be false" Dolores de Cospedal said whilst giving testimony in the civil suit.
Dolores de Cospedal has also launched legal action against El Pais after publishing records of accounting held by Bárcenas, better known as the "Barcenas papers", in January.
Seperately, Ignacio López del Hierro, husband of Dolores de Cospedal is also under investigation for fraud and misappropriation.
PM Mariano Rajoy has already denied any wrong doing, but as Bárcenas is seemingly being hung out to dry by his former colleagues, it's only a matter of time before new revelations come to light.
The case continues.