Jose Morinho loses legal fights against Spanish Media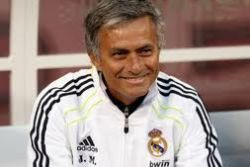 Jose Mourinho has lost a libel case in Spain against a journalist who likened the former Real Madrid boss to a 'typical hit-and-run-driver', reports ESPN.
Roberto Palomar, a reported for 'Marca' wrote on September 17, 2012, that the Portuguese coach did not take responsibility for his own mistakes, and he was the type of person that caused a mess and wouldn't stick around to fix it.
The article was published at a time when Mourinho's relationship with senior players at the club was at breaking point, with Real Madrid captain Iker Casillas dropped from the side, and rumours of Cristiano Ronaldo's 'sadness' in the Spanish capital.
Real Madrid were not playing well at the time, and the dig proved to be the first in a long list of unsavoury incidents between Mourinho and the local press, in what proved to be the 50-year-old's final La Liga campaign.
By the end of the seaon, Mourinho rarely spoke to the Spanish media, and let his former assistant Aitor Karanka take rhe majority of the club's press conferences.
Mourinho returned to Chelsea for the 2013/2014 season, succeeding interim manager Rafa Benitez to embark on a second term at Stamford Bridge.
Still bearing a grudge, Morinho ordered his lawyers to sue for retraction, as well as €15,000 in damages, which he promised to donate to Real Madrid's youth team.
However, earlier this week Judge Sagrario Arroyo Garcia rejected Mourinho's plea, ruling that "the freedom of information and expression of the accused must prevail", bringing the matter to an end.