Spain recovery will smooth budget road - minister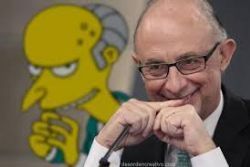 Spain's economy is on a strong enough recovery path to achieve three more years of deficit reduction without further spending cuts or tax hikes, the treasury minister told Reuters.
The economy started shrinking after a property bubble burst in 2008 and then sank into its worse recession in worst decades during the euro zone debt crisis. Unemployment and borrowing costs soared and the government applied for a financial sector rescue.
Helped by exports, the outlook for Spain has improved and Treasury Minister Cristobal Montoro rejected calls for the ECB, which recently cut its main interest rate to 0.25%, to do more to help the euro zone recover.
"It's enough. There's enough liquidity in the world. They're doing the right thing, but now it's down to the individual countries," he said.
Spain's borrowing costs have dropped sharply from record highs during the height of the debt crisis last year, largely due to ECB President Mario Draghi's promise that the central bank would do everything necessary to protect the euro zone.
This has saved the government billions of euros in interest payments compared to the original projections in the 2013 budget.
On Thursday the country sold 12-month treasury bills at the lowest yield ever seen in a primary auction of 0.678%%.
Montoro said Spain was on track to meet a forecast for a public deficit this year of 6.5% of economic output and for economic expansion of at least 0.7% next year, the first significant growth since 2008.
"By 2016, we'll be seeing very good growth. What will bring more revenue is that growth, with a modern tax structure, which eliminates any obstacle to growth. The scenario has changed," the 63-year-old economist said in an interview in between speeches defending the government's budget to the Senate.
Spain - the euro zone's 4th-biggest economy - negotiated with Brussels to win more time to bring its deficit below 3% in order not to stunt the economy and to lift the country out of record unemployment, currently at 26%.
That leeway has allowed Spain to ease up on austerity while passing major reforms, such as new labor market rules that make it easier for companies to hire and fire, harmonizing product packaging rules across Spain, and one of the most significant pension reforms in Europe that will limit annual pension rises.
The economy finally turned the corner after 2 years in recession in Q3, but economists warn the export-driven recovery is fragile.
More than half of workers 18-25 years old are unemployed, the export focus of the recovery depends heavily on strong demand from core euro zone countries France and Germany, and household and corporate debt must still come down.
BBVA economist Rafael Domenech forecasts Spain's GDP will expand even more than the government expects, by 0.9% next year. However, he said in a recent report: "Looking ahead, the recovery runs the risk of being slow."
The IMF projects 0.2% growth for Spain next year and the European Commissioner for Economic and Monetary Affairs, Olli Rehn, said last week that Spain's 2014 budget forecasts were too optimistic.
SOCIAL SECURITY SHORTFALL
Montoro, who oversees budget and taxation, is a long time high-ranking member of the ruling conservative Partido Popular. He is one of three members of PM Mariano Rajoy's economic team, along with Economy Minister Luis de Guindos and the premier's close advisor Alvaro Nadal.
The minister recognized that unemployment continues to drag on public spending.
He said Spain will spend more than budgeted on jobless benefits this year, bringing the social security deficit to a wider-than-expected 1.8% of GDP compared to an original target of 1.4%.
But Montoro said that would be easily made up with falling interest payments on sovereign debt and with higher than expected take from corporate tax - profits are up at many of Spain's biggest companies and the benchmark IBEX stocks index has jumped 20% this year.
"At this stage you know social security spending will miss the target, but you also know it's not by an amount you can't handle," he said.
He also rejected the notion that overspending in cash-strapped regions such as Valencia, Murcia and Navarra would derail the public deficit. Those three and several other of Spain's 17 autonomous regions are not expected to cut their budget sufficiently this year.
The 2016 deficit target implies around €35 Bln in adjustment over the next 3 years, but Montoro was confident that will come exclusively from growth.
He said the economy would expand by at least 0.7% next year: "not less than that."
"The economic scenario is improving a lot, you'll see that the next time we update the stability program the scenario will improve," Montoro said, referring to the economic growth forecast that the government will send to Brussels in the spring.
Montoro's major reform move for next year is an overhaul of Spain's tax system, which is expected to widen the tax base by scrapping exemptions or possibly reduce the number of income tax brackets. Spanish tax take is one of the lowest in Europe.
He declined to provide details of the reform, but said it was not about raising tax rates to provide the revenue needed for deficit cutting. It is about helping economic growth, which in turn will generate revenue, the minister said.