Spain Prepares Imminent Sale of Bankia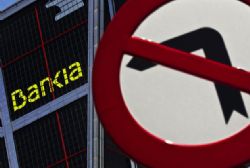 The Spanish government is considering selling part of its stake in bailed-out Bankia as soon as Q1 of this year, official and banking sources said, how to recoup part of the multi-billion euro rescue under favourable market conditions.
While no decision has yet been made, the economy ministry has recently stepped up contacts with bankers over the possible sale, the sources said. The state would probably sell no more than 18.4%, keeping a majority stake so that the bank's restructuring can be completed by 2017 as agreed with the EU, they added.
Bankia became a symbol of Spain's financial crisis after the huge losses it and other banks suffered due to a property market collapse forced the government to take €41.3 Bln in European aid to rescue its weakest lenders.
Bankia declined to comment while the economy ministry denied there were any talks over a Bankia stake sale.
Spain owns 68.4% of Bankia through its bank restructuring fund. At current market prices, the sale of an 18.4% stake would raise about €2.8 Bln, only a relatively small part of the €22.5 Bln that the government injected into the lender between 2012 and 2013.
But it would send a powerful message that the government has drawn a line under the banking crisis which put Spain on the brink of requesting a full sovereign bailout.
Bankia shares were at €1.328 in late trading on Tuesday, having recovered from below 90 cents last November. Earlier in the day they briefly reached 1.35 euros, hitting for the first time the price at which the state bought its stake last year.
A spokeswoman for Spain's bank restructuring fund said the state would logically look at selling down its stake at some point. The fact that the share price was close to the level at which the government recapitalised the lender had prompted rumours, but no calendar had been agreed, she said.
Bankia, which was created from the merger of seven savings banks in 2010 and floated on the stock market in mid-2011, had to shed more than 4,000 jobs and shut offices as part of its restructuring.
Hundreds of thousands of ordinary Spaniards who held Bankia stock or other securities such as preference shares lost most of their money in the rescue. But the bank has since been trying to get ahead of its restructuring plan.
Economy Minister Luis de Guindos said on Monday that the pace of the Spanish economic recovery was increasing and he hoped Bankia shares would keep rising to help the government recoup the bailout funds eventually. "The main source of return to cover the cash injections is Bankia. This is the real player," de Guindos said at a parliamentary hearing.
The sources said Spain's improving outlook combined with benign markets, made possible by waves of liquidity which leading central banks have injected into economies to help them recover, were providing the right conditions for a Bankia sale to happen in the short term.
"This is doable right now. A placement could be done. That would close a chapter. But it will depend on politics," said one banker who has been approached by the government on Bankia.
The banker said the government was considering moving now to seize an opportunity before European Parliament elections in May and the results of stress tests on the fitness of leading European banks later this year. "If they don't do it in Q1, it won't be done in the next few months," the banker said.
BRITISH EXAMPLE
The economy ministry closely followed the successful sale by the British government of a 6% stake in part-nationalised Lloyds last September. That raised 3.2 billion pounds and Madrid would like to replicate this, two official and banking sources said.
While domestic and international institutional investors have shown fresh interest in Bankia, the discussions have so far remained informal, the sources said, adding that the state was still considering its options.
Last week Bankia returned to funding markets for the first time since its rescue, issuing twice as much as it had initially planned to with a €5 Bln, 5 year senior bond.
Having also made its comeback in Spain's blue chip index Ibex in December, it is aiming for an €800 Mln group profit when it reports earnings for 2013 in February, after a record €19 Bln loss a year earlier.
Many investors are still doubtful that Bankia's recovery will last, however, and the lender will undergo its toughest series of stress tests to date later this year along with European peers.
Out of 13 analysts covering Bankia, 11 have a sell recommendation on the stock, while one advises holding it and only one says buy, according to Thomson Reuters data.
They say the shares are over-valued, as their objective valuation of an average €0.73 per share offers a 45% discount to the current share price. A ban on dividends until 2015 is also keeping investors away, they say.
"I understand the logic (of a sale now)... The sooner you can get out, the greater the success story. But ... it is one of a thousand ideas," another banker who has discussed the sale with the government said.
"Could it be done? Yes, it can. Will it happen? I would be cautious. I'd like to see the restructuring being completed and be sure there will be no more provisioning.