Rajoy meets with employers and unions to push for growth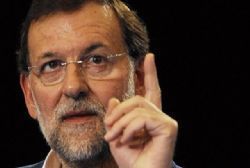 Mariano Rajoy attended a meeting on Tuesday with representatives of business and organised labor to push for social dialogue and reactivate economic growth and job creation.
Attending the meeting along with the Spanish Prime Minister and Employment Minister Fatima Baņez were the heads of the CEOE employers confederation, Juan Rosell, and the CEPYME small-business association, Jesus Terciado, as well the chiefs of the CCOO and UGT labor federations, Ignacio Fernandez Toxo and Candido Mendez, respectively.
Those in attendance agreed to pursue an "ambitious schedule of negotiations" this year, according to a joint statement.
The government and the business and labor leaders agreed on "the need to craft policies that make the public accounts sustainable, along with others to push economic growth and productive investment, which generate employment and guarantee adequate social protection."
Government, business and labor feel that reducing the "elevated level of youth unemployment" is a priority and "seeking specific formulas" for the long-term unemployed is an urgent matter.
Spain has a jobless rate of 26%, while unemployment among people under 25 stands at 55%.
All parties agreed that "the economy recently has shown signs of change although an elevated level of unemployment persists," and they discussed the need to "open a new phase" in which social dialogue takes on "renewed importance."