Grifols chairman backs Catalan independence movement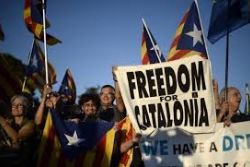 The head of Spain's largest pharmaceutical company, Grifols, on Thursday became one of the first executives of a major corporation to back a Catalan leader seeking a referendum on independence for Catalonia.
Catalan President Artur Mas wants to have a referendum on independence from Spain on Nov. 9. The issue has divided managers of companies with their roots in northern Catalonia.
Spanish PM Mariano Rajoy says a referendum would be unconstitutional and the central government will go to court to block the vote.
Catalonia accounts for a fifth of Spain's economic output, and advocates of secession argue that the region could flourish economically if it broke with the rest of Spain, whose tax system spreads wealth among the country's other regions.
The head of Barcelona-based Grifols held up his company's history - growing from a small, family-owned business into the world's third-largest maker of blood plasma products - as an example for Artur Mas.
During a speech at the inauguration of a plant outside Barcelona, Chairman Victor Grifols turned to Mas, who was attending the opening.
"A company that is determined must not question that determination," Grifols said. "I know you're having a rough time, but if you are determined, keep pushing forward and don't back down."
Besides Grifols, Barcelona is home to some of Spain's biggest companies, including its third-biggest bank, Caixabank and smaller peer Sabadell, the global infrastructure company Abertis and the utility Gas Natural.
The executives of most of these firms have held their views on separatism close to their chest. Taking either side might cause a backlash from customers on the other side.
Grupo Planeta Chairman Jose Manuel Lara stoked the fury of Catalan separatists last year when he threatened to move the publishing firm's Barcelona headquarters to Seville if Catalonia separated from Spain.
Catalan cava maker Freixenet says some Catalans have boycotted its wine products since its chairman Josep Lluis Bonet spoke out against independence. But in a Catch-22, Bonet says the company also faces a boycott in the rest of Spain just for being Catalan.
Separatist movements in Europe have come under renewed scrutiny following Russia's recent annexation of Crimea.
Read the timeline of Catalonia's bid for independence by clicking the link > HERE <