Rajoy Dismisses Offer of Talks on Catalan Vote as Not Serious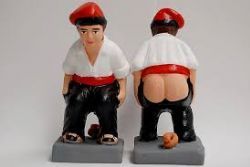 Spanish PM Mariano Rajoy dismissed his Catalan antagonist's offer to discuss modifying the region's plans for a referendum on independence.
Rajoy told reporters in Brussels today, where he's attending a summit of EU leaders, that regional President Artur Mas's proposal to renegotiate the terms, the date and even the text of the referendum question showed "an extreme lack of seriousness."
"This referendum is illegal and therefore it will not be held," the premier said.
Rajoy and Mas have been on a collision course since December, when the Catalan president announced his plan to hold an independence referendum on Nov. 9. Mas this week said he may be prepared to pause in the countdown to that vote in exchange for talks with the PM as long as he gets the backing of the other pro-vote parties.
While Rajoy insists the country's constitution doesn't give the regional government the power to call such a vote, Mas says his plan is legal and points to polls that show a large majority of Catalans backing his planned referendum.
The tension between the two leaders is set to increase in the run up to the referendum. Catalan National Day on Sept. 11 will probably see a mass demonstration in favor of independence on the streets of Barcelona as in recent years, Mas said. That comes one week before Scots hold their own independence vote.
Also in September, the regional Catalan parliament is due to approve a law authorizing the vote, potentially drawing a legal challenge from the Spanish government. While Mas could call a regional election as a de facto referendum if his plans are blocked by Madrid, he said all his focus is now on the vote set for November.
Catalonia, located in the northeast of the country, is Spain's biggest regional economy and accounts for about 16% of the nation's population.
Recommended Reading :
* Mas may be ready to delay Catalan vote if Rajoy will talk
* Catalonia calls for separate army to Spain