NASA image reveals light pollution over Spain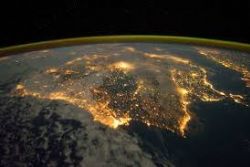 NASA has published an amazing high-resolution photograph of Spain.
The image was taken from the International Space Station, in orbit some 250 miles above the planet.
The photograph of the Iberian Peninsula was taken in the early evening, with the country's network of artificial lighting clearly showing the dense clusters of population.
The growth of urbanized areas also perhaps depicts how Europe's 3rd largest country has grown in population density over recent years.
Although a beautiful image of amazing clarity, the photograph was part of a wider study by NASA into light pollution across various parts of the world.
Recommended Reading :